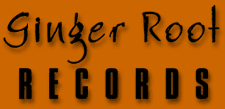 Ginger Root Records strives to feature traditional music and musicians who are well versed in traditions, but making new music to forge ahead, using mixtures of different cultural influences and modern technology.

Store back online!


most CDs only $10!

Milkay Mununggurr CD


teaching traditional didj!

Randy Graves CDs


teaching contemporary didj!

New website for film


composer Randin Graves